7 Things You Need to Know Before Buying Home Theatre Seating
1. Seating Layout: How it Affects Acoustics
2. Style: Do's and Don'ts
3. Upholstery: Making the Right Choice
4. Sizing: Do You Need a Tailored Fit?
5. Comfort & Quality: Enhance Your Experience
6. Accessories: What Are Your Options?
7. Motion Coding: The Missing Element
1. Seating Layout: How it Affects Acoustics
We regularly receive cinema plans from architects, designers and builders and one thing we notice is that the seating layout is always incorrect. They will often try to fit as many chairs into a space as possible with no consideration for audio or visual implications. One of the big no-no's of seating layout we see all too often is putting chairs up against the back wall, this stops the movement of sound around you and puts the people in those back seats right on top of the rear wall speakers. When we lay out cinema chairs in a space, we consider how each person in each seat will hear and see the movie, making sure everyone will experience the movie just as it was intended – no more getting your eardrums assaulted or having to ask the person next to you "what did they say?"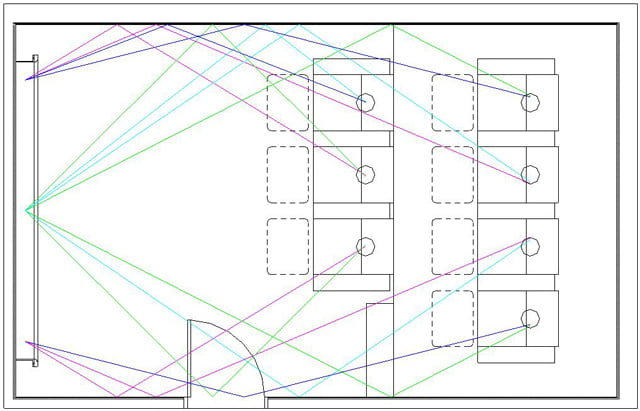 The above image shows sound reflection points in a home theatre.
2. Style: Do's and Don'ts
Follow these tips and your cinema seating will stand out for all the right reasons.
DON'T: CHOOSE BRIGHT COLOURS


The bright red chairs, like in the image above, will reflect red back onto the cinema screen.
DO: CHOOSE NEUTRAL COLOURS


The dark neutral Fortress Crosstown chairs in our Uptown cinema look sophisticated and are much better for screen colour accuracy and calibration.
DO: WORK WITH THE OVERALL STYLE AND CONCEPT OF THE ROOM


Your theatre seating should complement your decor and blend with the space. In our Illuminati Cinema above the studded, black leather Fortress Palladium chairs work perfectly with the old-world, masculine design.
DON'T: HAVE A THEME


A themed room can come across as gimmicky or tacky and won't age well.
DON'T: PUT TOO MANY CHAIRS IN THE ROOM


Putting too many chairs makes a room look cluttered and putting chairs up against the back wall isn't good for acoustics.
DO: CONSIDER OTHER OPTIONS FOR ADDITIONAL SEATING


In our Let There Be Light cinema, we added a timber bench and bar stools behind the cinema chairs for extra seating.
DO: CHOOSE HIGH QUALITY FABRICS AND LEATHERS


For the Bohemian Rhapsody cinema we sourced a luxury cotton/rayon blend velvet that will patina beautifully over time.
DON'T: COMPROMISE ON UPHOLSTERY QUALITY


This bonded leather chairs above don't look luxurious and won't be as strong or durable as true leather.
DO: CONSIDER THE HEIGHT OF YOUR CHAIRS AND ROOM


Choose low seating for a loungey, modern feel and high backed seating for a more formal, classic look. In our Arcadia cinema above we selected Jaymar Bourne seating with motorised headrests, when the headrests are lowered – as pictured –  the space feels bigger.
DON'T: PUT FURNITURE IN YOUR SPACE WITHOUT CONSIDERING PROPORTIONS


The layout of these cinema chairs feels very dis-proportioned in the space and make the room feel empty and bland.
DO: COMBINE STYLE AND COMFORT


The Star modular lounge by Jaymar (which we currently have in our showroom cinema) features a 25mm layer of memory foam for extra comfort.
DON'T: SACRIFICE STYLE FOR COMFORT


The puffy seating above looks dated and just because it has lots of padding, doesn't mean it will be comfortable to sit in for long periods of time.
3. Upholstery: Making the Right Choice
Leather is the most popular choice among our furniture customers and natural, high quality leather is beautiful, soft, easy to clean and durable – it will last a very long time and gain character with age. Both our cinema seating brands have an extensive selection of leathers in a wide range of textures, colours, finishes and thicknesses.


These custom cinema chairs by Fortress Seating in our First Light cinema feature a high-quality dark brown leather with contrast piping.
Fabric is also a wonderful choice for cinema seating, it is generally more affordable and comes in many more colour and pattern options than leather, it also has the added benefit of working as a sound absorber. We can source the perfect fabric for your project, from luxurious velvets to casual linens and chunky weaves to unique patterns, the options are limitless.


An eclectic mix of fabrics were chosen for upholstery and soft furnishings in our Wonderwall cinema above.
Once you decide whether you want fabric or leather, the best way to select colour, pattern and/or texture is by putting a storyboard together. It is important to put together actual swatches of the materials and look at them in the correct lighting (the type of lighting your finished room will have), so you can view the colours and textures accurately, side-by-side in your space. If you need help, we provide interior design services to all our cinema and seating customers.
4. SIZING: DO YOU NEED A TAILORED FIT?
Most furniture comes in a set size based on the average person and average cinema, but with bespoke furniture each piece is unique and custom designed to fit the room and the person. While our brand Jaymar Furniture has height adjustable headrests on some of their models (which is great for tall clients), Fortress Seating is completely flexible with options to customise seat depth, seat height, back height, overall height and overall depth of each chair – no wonder their client list includes professional American Basketballer's. Whether working with specific dimensions, combining different design elements of existing products, or working from a blank canvas, Fortress has the manufacturing expertise to create your concepts.


The above image shows the chair specifications of Fortress Seating.
5. Comfort & Quality: ENHANCE YOUR experience
Your cinema should be a retreat, an escape from reality where you, your family and friends can spend endless hours in pure comfort and style for years to come. This is why the theatre seating you choose is so important, if you want to use your home cinema all the time (like our clients do), then you want high-quality chairs that are designed to enhance your movie experience by providing comfort, the right support and line-of-sight viewing. We had to search the world for our exclusive seating brands because there was a void in the Australian market when it came to theatre seating that met our expectations of design, comfort and quality.
Fortress Seating is based in the United States and has over 75 years of experience building commercial seating, while Jaymar, based in Canada, promises a lifetime warranty on every seat. Both brands meticulously design each chair with the user in mind and build them to the highest structural standards, perfectly balancing beauty, comfort and longevity.
6. Accessories: What Are Your Options?
Cup holders and reclining functions are common home theatre chair accessories, but did you know you can also get integrated reading lamps, wine glass holders, motorised tray tables and motorised articulating headrests! Both of our furniture brands come with a huge array of optional accessories, so you can customise each chair to suit you perfectly.

Above are some of Jaymar's home theatre seating accessories including their fantastic anchorage system where you can use the one arm port to insert a tray table, wine glass holder or tablet holder.

Fortress Seating has an extensive range of accessories to choose from as you can see in the above image from their brochure.
7. Motion Coding: The Missing Element
Sometimes you don't know what you are missing until you find it, then, you don't know how you ever lived without it! This is the case with motion coding (and our clients can attest), think of it as the missing element in your cinematic experience. Most people haven't heard of motion-coded seats, but they are common overseas and in high-end Australian home theatres. Just like a soundtrack, the motion-track of a film is an integral layer that has been overseen and approved by the director, but, like music, you really need to experience it for yourself. From the subtle vibration of a frisbee whizzing past your ear, to the intense action of being in a World War II dogfight, a films motion-track lets you experience the tactile sensations you would get if you were in the movie. Check out our exclusive brand D-BOX, the pioneer and world leader in non-distracting immersive cinematic motion experience.

Imagine experiencing your favourite movie in a whole new way (image credit: Guardians of the Galaxy)