What is D-BOX & Why it Matters
With all the recent buzz about D-BOX, we've had a lot of people asking us to explain what D-BOX is. Think of how speakers deliver a films soundtrack to your ears, now imagine a system that can immerse your body in the tactile feelings of the films motion-track, that system is D-BOX. But, like reading a review about an album isn't the same as listening to it, D-BOX is something that is better experienced than explained and you can book an appointment at our Sydney Showroom if you want to feel it for yourself.
D-BOX Technologies Inc.
D-BOX is the pioneer and world leader of motion simulation systems for entertainment, they design and manufacture motion systems that can be integrated into your home theatre seating.  D-BOX also artistically script motion effects, recreating the natural movement of anyone or anything in motion within a film, enabling at-home movie viewers to actually feel as if they're part of the action. Before getting into the details you might be wondering about the price tag? See our article on how much D-BOX seats cost to find out.
How D-BOX works
The D-BOX system is made up of 3 main components:
D-BOX Motion Actuators – the actuators and power drive are imbedded into your seating, the actuators sit on the floor and create the movements you feel while watching a film.
D-BOX Motion Controller – the HEMC motion controller is the interface between your content source and your actuators, when you play a movie (whether it be on DVD, Bluray, Netflix, Stan, Apple TV, Free-to air TV or any other content source) the HEMC holds the scripted motion and information and translates from the motion code to the chair actuators.
D-BOX Motion Code – the motion code is the action scripted by motion artists and approved by the film director. Subtle pitch, roll, heave and intelligent vibrations move in perfect sync with all the onscreen action.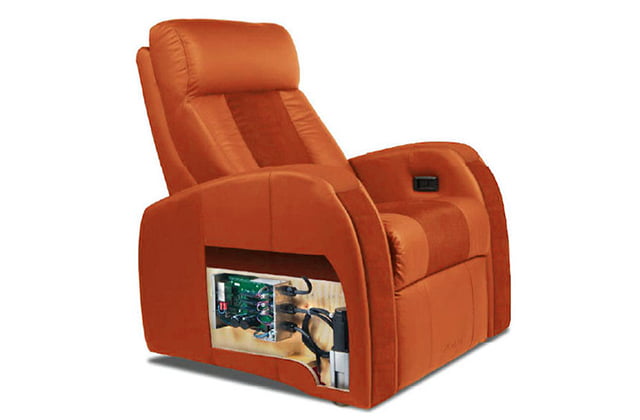 Above: The Jaymar Jolie Cinema Chair with a D-BOX Motion Actuator Installed
D-BOX Motion Code
Just as the soundtrack in a movie is created by all the different textures and layers of voices, music and sound effects, every single movement or motion effect is programmed as a separate track, creating D-BOX motion code. The D-BOX motion track is synchronised to the film, creatively mimicking movements and vibrations in a sensitive, precise and intelligent manner, added only when justified to enhance the story.
A Personal Experience
Everyone is different and while some people like to crank up the volume or action, others like to keep things more subtle. Thankfully D-BOX takes this into account by providing a high level of personalisation, just like adjusting the volume, you can separately control the motion and vibration/tactile sensations by simply sliding a bar on your touch screen to increase or decrease either element.
What D-BOX Feels Like
Imagine feeling the weightlessness of space while watching a sci-fi movie…

…Or feeling the rumble of the car engine beneath you while watching a street race…

…Or feeling all the action along with your favourite superhero…

There is no need to imagine, for a complete cinematic experience that meets DCI standards and the Director's vision, contact us today!
Movie Stills Above: 1. Sandra Bullock in Gravity (2013), 2. The Fast and The Furious (2001), 3. Spider-Man: Far From Home (2019)