What Is A Home Theatre Room
Home theatres rooms are dedicated rooms in a home which have been purpose designed and built to the highest degree to reenact the particular entertainment experience that is desired. Whether that be watching the latest bockbuster at the cinema, listening to your favourite rock bands live performance or immersing yourself into a 4D simulated adventure game. We at Wavetrain believe the a home theatre room should be an extension of ones personality and due to this we are known for creating cohesive and well-crafted experiences that extend on from the rest of the home.
It is important to distinguish between a multi-use media room where the lighting control is achieved through closing the blinds and the screen can be seen while cooking dinner and your own personalised, dedicated escape based on your favourite films or aesthetic. If you are looking for the latter, you are in the right place. The combination of better equipment, the ability to customise every detail, and skilled teams determined to get to the heart of what you want has made this possible.
And when we say every details, we mean every detail. From the projector selection, surround sound and lighting control to the soundproofing glue, seating fabrics and motion control. There is so much more to cinema design than architecture & interior design. If the audio, video, motion and even more importantly the A/C is not properly executed, then the investment in a cinema is a waste of money.
The one piece of advice I would give anyone building a dedicated cinema is this. Make your cinema a destination. Often the cinema is in the basement of the house or tucked away. If the cinema is not a destination, then why would you go there. In every way, it needs to be amazing. Think of it, as not just a place to watch movies, but an escape. A place to date, a place for family time, a place to entertain your friends. David Moseley, Owner Of Wavetrain Cinemas
components of a Home theatre room
There are numerous aspects that need to be considered when deciding on a home theatre room but the first and foremost should be to consider how much you are willing to spend. Depending on the requirements of the room, the minimum investment to create a reference system is $100,000 AUD.
Room dimensions & location
We recommend that the minimum size for a home theatre room be 4m x 5m (length, width), to allow for seating four people. For rooms requiring seating for seven to eight people, we recommend sizes from 4m x 6.5m. The golden room ratio of 1:1.6:2.56 is perfect (height, length, width), so if you are doing a custom build, these the specs you should be aiming for.
The best location for a cinema is in an area of the home that is surrounded by mass, preferably a basement or garage and away from bedrooms or living areas. For room conversions its important to be aware of windows, entry and exit points as these will impact the display, sound and lighting.
Without the optimal room design and architecture, you could have the highest quality equipment but still achieve a poor result. The equipment is dictated by what the client wants from the room and the required performance levels. Even the air conditioning plays a significant part in sound quality and acoustics. Some designs, in order to reach optimum sound quality, require the air-con system for the entire floor to be redesigned.
Interior design brings together all the elements of a home cinema and adds to the feel and theme of the room. Some of the award winning rooms we have created have been the result of design challenges, or when we've been given free rein to unleash our creativity.
When it comes to creating award winning rooms, acoustics are key. Selecting the correct speakers, amplifiers and sub woofers are vital, but speaker location and placement, and carpet, curtain and seating fabrics are equally as important. Understanding the rest of the house and how the client will use their cinema, ensures no sound escapes and the movie watching experience is high quality and immersive.
Soundproofing is another area that can make or break a home cinema, and this is especially delicate as each home has its own distinct requirements and quirks. At a minimum, we use soundproofing glue & sealant, floating floor, thick underlay, resilient mounts, a sound isolation door, and absorption board.
While designing a complete home cinema experience, seating layout requires an extra amount of research and knowledge. While the quality and comfort of the seats is of utmost importance, you also need to consider the theatre layout, optimum viewing distance, space between the seats and sound requirements to select the best home theatre chair position.
As the exclusive Australian partner of internationally acclaimed brands Jaymar and Fortress Seating we offer full customization of our luxury cinema seating options where you can choose from living room solutions and motorised recliners, to Dbox motion enabled chairs for a completely immersive home cinema experience.
Seating To Suite
Browse our full catalog of home theatre seating to fit your cinema room
When it comes to display there are two options, a TV or a projector. TV's come as either LCD, LED or OLED where as projectors come as either LCD, DLP or laser. TV's generally outperform projectors in terms of brightness and contrast and have a lower purchase price, but due to their lower maintenance requirements and higher resolutions, projectors often come out as a more cost effective solution long term.
Choosing the correct display device and technology for your home theatre room should be determined by the room itself and the desired performance. Prices can range from $1000 for an entry level option to over $10000 for a high performance 4k HDR laser projector.
One of the most important pieces in the puzzle is how you connect to the room and for a cinema, that is your movie source. Considerations of source are user experience, signal compression and cinema automation scripting. Many streaming sites have great user experience but are heavily compressed, 4K UHD Blu-ray are less compressed providing better audio and video but are less convenient to acquire.
Cinema automation scripting brings the movie to life. The lights dim, pause & step lights come on, put on a widescreen film & the screen adjusts automatically, during the action scenes the seats move and vibrate fully immersing you in the experience.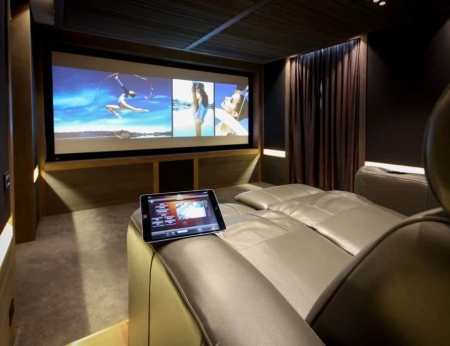 AV calibration & Connections
For every individual project, acoustic treatments, baffles, design and construction must be carefully calibrated for the specific space. To get the most out of your projector or TV it needs to be calibrated. All our cinema rooms are calibrated to the highest commercial industry standards using 1D and 3D LUTs, meaning they perfectly match the look intended by the film's Director of Photography and Director.
Often overlooked but essential are the connections between the source, display and sound. Using the correct cables, connections and wiring lengths ensures retain the quality of your equipment.
Visit Our Showroom
See, feel and hear what's available and what's possible
Our Home Theatre Services
How to create your perfect home theatre room
step: 1
Book an Appointment
To get started, schedule a one-on-one session with one of our home theatre room experts by clicking the button below.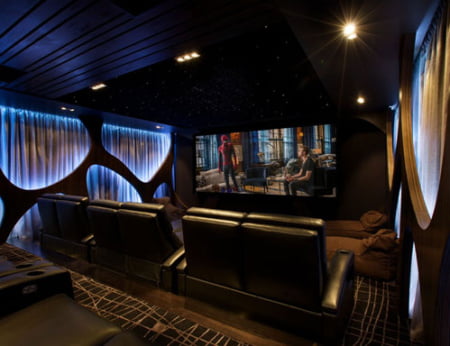 Step: 2
Experience the possibilities & get inspired
Together we will discuss your goals and you will get to demo our cinema rooms to experience what's possible & get inspired.
Step: 3
We handcraft a cinema that brings your vision to life
Our in-house interior designer and acoustics team work with you from start to finish, ensuring your unique vision comes to life, effortlessly.
Testimonials
I must say that I am extremely happy with the end result of this project, from the initial consultation, to the design, build, installation and calibration, Wavetrain CInemas delivered to my very high standards. The design, audio and visual result is spectacular!
David went out of his way to design a room that looked and performed beyond my expectations while also being affordable. He has great skills and dedication and is passionate about what he does. I have no hesitation in recommending him to others looking for an exceptional experience.
David is probably the no.1 and most respected (and knowledgable) cinema designer in the country. His list of projects is extensive and his knowledge on home cinema design is deep and far reaching.
Wavetrain are a highly professional team, who are passionate, easy to work with and delivered a result that exceeded our expectations. The picture and sound quality is extraordinary. We cannot recommend Wavetrain Cinemas highly enough.
Wavetrain's fusion of creative design, engineering excellence and client communication is a rarity in an industry full  of complexity, and was in large part responsible for my project winning best cinema at the 2015 Sound & Image awards. And the best part of all: the 'instant awe' every time my friends come over for movie night!
Wavetrain waved its magic wand and transformed the worst room in my home to the best. It was a very challenging space and my (high) expectations were far exceeded. I enjoyed working with David and couldn't be happier with the result.
We utilised the services of Wavetrain to design, engineer, construct and calibrate our home cinema. As avid fans of the cinema experience watching between 2-4 movies each week, we have been thrilled with the result, our guests are constantly amazed at the experience.
David, thank you for such an amazing cinema! We are so happy with it. Your professionalism, knowledge, attention to detail and commitment to perfection have given us a cinema that has well and truly exceeded our expectations. Thank you!