HOME THEATRE CARPET: 9 POINTS YOU NEED TO KNOW
People often come to us asking what carpet they should use in their home cinema, this is not surprising as choosing the right carpet is a very important decision and it is often a significant investment. If you don't want to make any costly mistakes you can get in contact with our design professionals, or for a few pointers, read our list below:
1. DURABILITY
You want to get as much life as possible from your carpet and if your cinema is anything like our cinemas, it will be a regularly used area that needs a hard-wearing carpet. Due to advances in textile technology your choices aren't just limited to traditionally hard-wearing fibres like wool anymore, certain brands now have high-quality synthetic carpets that can compete with and outperform wool carpet.
2. LOOK
The carpet you choose for a room has a big impact on the final aesthetic of the space. Whether you are trying to achieve a modern architectural look, or transform your cinema into a luxurious old-world abode, you need to consider how elements like colour, style, pattern and composition will add to (or subtract from) your overall design. When it comes to carpet style, plush & cut pile tend to have a more formal look, while loop pile and sisal are more casual. And when choosing colours, you need to think about how they may affect your screen image, bright colours can reflect onto your screen and throw off the colour calibration, but if you really want a bright colour or pattern, a good AV calibrator can often offset these effects.
3. FEEL
The feel of a carpeted floor is affected by the carpet composition, style, thickness, density and underlay. Certain fibres like wool can feel quite rough but can be softened by blending the wool with a soft synthetic, while fibres like silk and some art-silk carpets feel unbelievably soft and luxurious. Also, plush and cut pile carpets tend to feel softer underfoot than looped styles.
4. NOISE TRANSMISSION
Acoustics are important in every room of your house, especially your home theatre – you don't want to be paranoid about disturbing the neighbours or waking the kids when you're watching your favourite action movie or concert. Carpet is the best flooring choice for cinemas because it works as an absorber, but it is also important to choose a good quality underlay that is specifically made to reduce sound leakage (see point #5). If you need to know more about sound isolation techniques for your home theatre, you should contact our acoustic experts, as carpet & underlay are just the tip of the iceberg.
5. UNDERLAY
We use the same underlay in all our cinemas, it is a thick high-performance rag underlay with minimum 30% wool content. It reduces noise transmission, has superb underfoot comfort, is thermally rated and asthma and allergy friendly. If you want to find out more about what underlay we recommend, you can contact our team of cinema designers.
6. WOOL
Wool is a beautiful, natural and hard-wearing material that works very well in cinemas. We can supply wool carpet to suit your cinema in a range of colours, thicknesses and compositions.

Above: 100% Wool Carpet in our Let There Be Light Cinema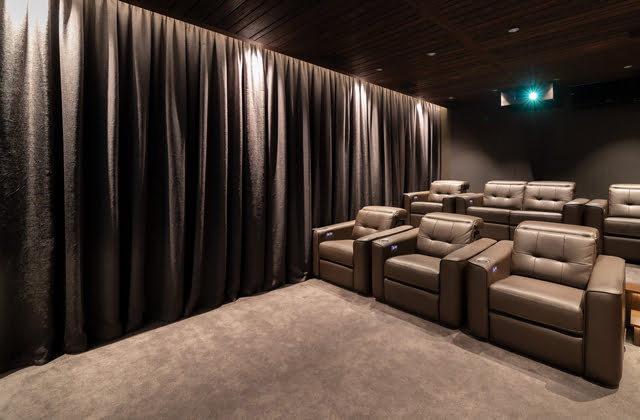 Above: 100% Wool Carpet in our Arcadia Cinema
7. SILK
Silk carpet and rugs look and feel amazing, they have stunning sheen, colour and softness, but almost no resistance to staining – especially from liquids. We recommend art-silk carpet for cinemas (see point 8), but be aware, not all art silk is created equal.
8. ART SILK
The art silk carpet we use in our cinemas has all the benefits of the best natural fibres with none of the drawbacks. It is more durable and offers greater stain resistance than wool and has specially engineered yarn that has been designed to exceed the luxury, softness and lustre of silk. If you want to see (and feel) our luxury art silk carpet, make an appointment at our Sydney showroom.

Above: Art Silk Carpet in our First Light Cinema

Above: Art Silk Carpet at The Collectionist Hotel, Sydney
9. CUSTOM CREATIONS
When it comes to bespoke rug and carpet designs, the only limit is your imagination. Printed carpet is fantastic if you want a custom pattern or palette, as you can print pretty much anything your heart desires on a range of carpet bases. While custom hand-tufted designs allow you to combine and number of different fibres and construction techniques, as well as colours and patterns.

Above: Printed Carpet in our Bohemian Rhapsody Cinema