Dbox Motion Seating & Movies
D-BOX is a company which specialises in creating realistic and immersive entertainment. Scripted by motion artists and approved by the movie Director, their products add an extra sensory dimension to movies, video games and virtual reality. D-BOX is the only Hollywood approved motion coding system with a catalogue of over 1,500 films including all your old favourites.
What does DBOX motion seating feel like?
DBOX uses subtle movements and vibrations to enhance the movie experience. The seats vibrate and move in time with explosions, car chases and other kinds of action. These seats are very popular with our clients internationally and across Australia with installations in Sydney, Melbourne, Perth, Brisbane and Gold Coast.
DBox
Seating
D-BOX is the pioneer and world leader in non-distracting immersive cinematic motion experience. D-BOX provides home theatre owners with a new and exciting way to experience movies by adding its unique, award-winning motion technology to home theatre seating solutions. Browse our extensive catalogue of DBOX actuators & accessories, as well as DBOX compatible seating by Fortress & Jaymar below.
DBox Commercial
DBOX is the only motion system approved by Hollywood and is part of the DCI standard for commercial cinemas. The DBOX motion system is utilized on 660 screens in over 40 countries, providing commercial cinemas with a proven way to build customer loyalty, create more brand awareness, and deliver a recurring stream of revenue that delivers regardless of your theatres configuration.
DBox
Movies
With over 1,500 movies encoded for home theatre presentation, D-BOX brings new life to your customer's movie collection and delivers thousands of hours of awesome entertainment by adding its immersive cinematic motion experience. D-BOX breathes new life into movie collections by making home theatre owners experience movies like never before.
step: 1
Choose your D-box ready seat
Please see our range of Jaymar and Fortress D-box ready seating. Custom solutions are available on request.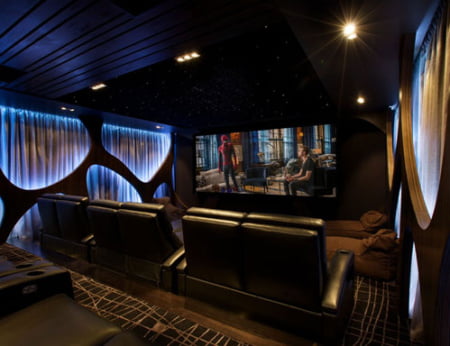 Step: 2
Choose your D-box actuator set
D-box can be purchased for 2 or 3 axis of motion, plus weight. A single HEMC motion controller is required.
Step: 3
Talk to our interior designers
Our interior designers will assist you to customise for your décor. Drawings can be provided with clear cabling instructions.
Experience Dbox
Commercial and Residential Solutions Available
Testimonials
I must say that I am extremely happy with the end result of this project, from the initial consultation, to the design, build, installation and calibration, Wavetrain CInemas delivered to my very high standards. The design, audio and visual result is spectacular!
David went out of his way to design a room that looked and performed beyond my expectations while also being affordable. He has great skills and dedication and is passionate about what he does. I have no hesitation in recommending him to others looking for an exceptional experience.
David is probably the no.1 and most respected (and knowledgable) cinema designer in the country. His list of projects is extensive and his knowledge on home cinema design is deep and far reaching.